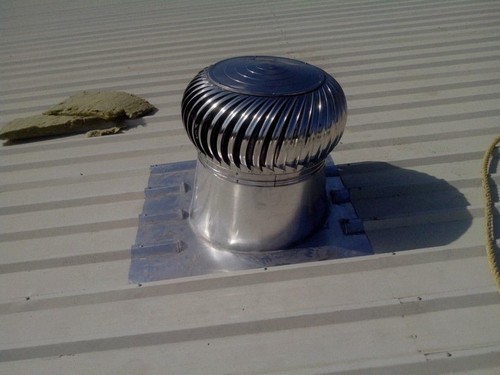 Wind Ventilators
Price And Quantity
Unit/Units

Rs 4,600 /Unit INR
Product Description
Wind Ventilator

With our wind ventilator, you can now achieve year round, effective ventilation that will not just be economical but natural as well. This product is helpful in bettering the working conditions without any operating cost or power consumption. This energy saver also helps in increasing productivity and making a better tomorrow.
As per the market demand and requirement of our leading patrons, we are offering the range of Wind Ventilators. Our products are highly appreciated due to its high durability, excellent performance and cost-effectiveness. The offered range is made by using the advanced technology, machines and tools, under the directions of our skilled professionals. Furthermore, we are offering the range of Wind Ventilators at pocket-friendly budget.
Wind Ventilator Working / Process

The wind ventilator, also known as turbine ventilator, uses the wind energy (velocity) for inducing the air flow vi the application of centrifugal force. The latter force is produced by the spinning vanes, as it develops an area of low pressure that exists the air via turbine. As a continuous process, this drawn out air is replaced with the outer fresh air. The turbine spins even in light wind. In case there is no wind, stored energy in rotor cage is used by the fly wheel for persistently removing air, which results in ventilation. In other words, suction process is ensured even in less velocities of wind.

Major Key Features

Bottom ring and top plate are made using stainless steel
Aluminum vanes are rigidly constructed in curved shapes using roll forming process
Sealed ZZ bearings are provided which are permanently lubricated
Design it rust free, hence zero maintenance is required. Also, the design is spider like and rain proof
Material of constructions are stainless steel or aluminum. Both wind ventilators are available with us having 10 years of performance warranty.

Major Advantages

Since it runs on wind energy, there is no operating cost associated with it
24 x 7 ventilation is assured and can be installed on all types of roofing profiles
80% depreciation under section 32 of IT act.
Helpful in bettering the human comfort level as well as productivity
Delivers fresh air to replace humidity, smoke, hot air, stale air and gas fumes
Technical Specification :
Recommended Air Changes :
| | | | |
| --- | --- | --- | --- |
| Type of Building | Air Changes / Hour | Type of Building | Air Changes /Hour |
| Assembly Hall | 6-12 | Chemical Plant | 30-60 |
| Auditorium | 4-12 | Laundry | 12-30 |
| Bakeries | 12-20 | Paper Mill | 08-30 |
| Boiler Room | 15-60 | Textile Mill | 08-15 |
| Brewery | 8-30 | Packing Room | 08-30 |
| Class Room | 10-15 | Transformer Room | 12-30 |
| Engine Room | 12-30 | Paint Shop | 20-30 |
| Factories (Light) | 10-20 | Ware House | 05-08 |
| Factories (Heavy) | 20-40 | Foundry | 10-30 |
Ventilator Performance Data :
Wind Velocity

8Km/Hr

Model

Ventilator Size

Height

Exhaust Capacity

MUKTA ENGINEERS 24

24 inches

20 Ft

1972 CFM

30 Ft

2076 CFM

40 Ft

2164 CFM
To Determine Number of Ventilators Required:
{(Volume of shed X No. Of Air Changes) / 60} / Exhaust Capacity of Ventilator. Volume of Shed = Length X Width X Height

Conversions:
1 Ft = 0.3048 Mtrs
1 Mtrs = 3.2808 Ft
1CFT = 0.028317 CUM
1 CUM = 35.315 CFT
MUKTA ENGINEERS 24 WIND VENTILATOR
MOC of Vanes

Industrial HI grade Aluminium (HINDALCO MAKE H-14 8011 GRADE)

MOC of Top Plate

SS 304 (o.5mm) (AERODYNAMICAL)

MOC Bottom of Ring

SS 304 (0.5mm)

Weight of Ventilator

06 Kg.

Height of Ventilator

410mm + 5 mm

Center Width of Ventilator

735mm + 5 mm

Dia of Top Plate

500mm + 5 mm

Dia of Bottom Ring

600mm + 15 mm

Nos of Vanes

42 Nos Rolled Formed with lock washer

Thickness of Vanes

0.5mm

Nos of Bearing

02 Nos

Bearing Type

SKF - 6001 ZZ
Permanently Lubricated & Sealed

Rivets

Aluminum Alloy with LOCK Washer
We are providing double fan
Slope Adjustable Mukta Engineers 24 Wind Ventilator
MOC of Vanes

Industrial HI grade Aluminium (HINDALCO MAKE H-14 8011 GRADE)

MOC of Top Plate

SS 304 (o.5mm) (AERODYNAMICAL)

MOC Bottom of Ring

SS 304 (0.5mm)

ANGLE ADJUSTMENT RANGE

0 TO 17 DEGREE.

Weight of Ventilator

06 Kg.

Height of Ventilator

410mm + 5 mm

Center Width of Ventilator

735mm + 5 mm

Dia of Top Plate

500mm + 5 mm

Dia of Bottom Ring

600mm + 15 mm

Nos of Vanes

42 Nos Rolled Formed WITH LOCK WASHER

Thickness of Vanes

0.5mm

Nos of Bearing

02 Nos

Bearing Type

SKF - 6001 ZZ
Permanently Lubricated & Sealed

Rivets

Aluminum Alloy with LOCK Washer
Mukta Engineers 24 SS304 Wind Ventilator
| | |
| --- | --- |
| MOC of Vanes | SS304 |
| MOC of Top Plate | SS 304 (o.5mm) |
| MOC Bottom of Ring | SS 304 (0.5mm) |
| Weight of Ventilator | 08 Kg. |
| Height of Ventilator | 410mm + 5 mm |
| Center Width of Ventilator | 735mm + 5 mm |
| Dia of Top Plate | 500mm + 5 mm |
| Dia of Bottom Ring | 600mm + 15 mm |
| Nos of Vanes | 42 Nos Rolled Formed WITH LOCK WASHER |
| Thickness of Vanes | 0.5 MM |
| Nos of Bearing | 02 Nos |
| Bearing Type | SKF - 6001 ZZ Permanently Lubricated & Sealed |
| Rivets & SHAFT | SS 304 |
Contact Us
101 phoenix Avenue, Gandhari, near K m Agrawal college, Gandhari, Adharwadi, Kalyan West, Kalyan, Maharashtra, 421301, India
Phone :+918037304336