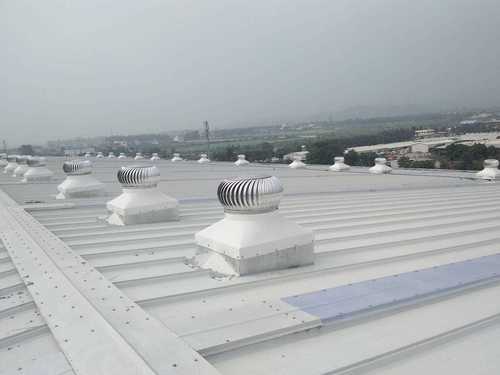 Stainless Steel Ventilators
Product Code : 23
Rs 5,300 /Unit INR
Price And Quantity
Unit of Measure

:

,
Price

:

Rs 5,300 /Unit INR
Product Description
The
Mukta Engineers company
is engaged as a manufacturer, supplier & exporter of
Stainless Steel Ventilators.
All the products made by using the ultra modern tools and machinery and top quality raw material, under the instructions of skilled professionals. The offered range is used in various applications and are highly demanded for owing its corrosion resistance, superior finish and unmatched quality. Apart from this, we are offering the range of
Stainless
Steel Ventilators
at a competitive price.
Features
:
Resistant to corrosion
Durable finish
Excellent performance
Top quality material
Technical Specification :
Recommended Air Changes :
| | | | |
| --- | --- | --- | --- |
| Type of Building | Air Changes / Hour | Type of Building | Air Changes /Hour |
| Assembly Hall | 6-12 | Chemical Plant | 30-60 |
| Auditorium | 4-12 | Laundry | 12-30 |
| Bakeries | 12-20 | Paper Mill | 08-30 |
| Boiler Room | 15-60 | Textile Mill | 08-15 |
| Brewery | 8-30 | Packing Room | 08-30 |
| Class Room | 10-15 | Transformer Room | 12-30 |
| Engine Room | 12-30 | Paint Shop | 20-30 |
| Factories (Light) | 10-20 | Ware House | 05-08 |
| Factories (Heavy) | 20-40 | Foundry | 10-30 |
Ventilator Performance Data :
Wind Velocity

8Km/Hr

Model

Ventilator Size

Height

Exhaust Capacity

MUKTA ENGINEERS 24

24 inches

20 Ft

1972 CFM

30 Ft

2076 CFM

40 Ft

2164 CFM
To Determine Number of Ventilators Required:
{(Volume of shed X No. Of Air Changes) / 60} / Exhaust Capacity of Ventilator. Volume of Shed = Length X Width X Height

Conversions:
1 Ft = 0.3048 Mtrs
1 Mtrs = 3.2808 Ft
1CFT = 0.028317 CUM
1 CUM = 35.315 CFT
MUKTA ENGINEERS 24 WIND VENTILATOR
MOC of Vanes

Industrial HI grade Aluminium (HINDALCO MAKE H-14 8011 GRADE)

MOC of Top Plate

SS 304 (o.5mm) (AERODYNAMICAL)

MOC Bottom of Ring

SS 304 (0.5mm)

Weight of Ventilator

06 Kg.

Height of Ventilator

410mm + 5 mm

Center Width of Ventilator

735mm + 5 mm

Dia of Top Plate

500mm + 5 mm

Dia of Bottom Ring

600mm + 15 mm

Nos of Vanes

42 Nos Rolled Formed with lock washer

Thickness of Vanes

0.5mm

Nos of Bearing

02 Nos

Bearing Type

SKF - 6001 ZZ
Permanently Lubricated & Sealed

Rivets

Aluminum Alloy with LOCK Washer
We are providing double fan
Slope Adjustable Mukta Engineers 24 Wind Ventilator
MOC of Vanes

Industrial HI grade Aluminium (HINDALCO MAKE H-14 8011 GRADE)

MOC of Top Plate

SS 304 (o.5mm) (AERODYNAMICAL)

MOC Bottom of Ring

SS 304 (0.5mm)

ANGLE ADJUSTMENT RANGE

0 TO 17 DEGREE.

Weight of Ventilator

06 Kg.

Height of Ventilator

410mm + 5 mm

Center Width of Ventilator

735mm + 5 mm

Dia of Top Plate

500mm + 5 mm

Dia of Bottom Ring

600mm + 15 mm

Nos of Vanes

42 Nos Rolled Formed WITH LOCK WASHER

Thickness of Vanes

0.5mm

Nos of Bearing

02 Nos

Bearing Type

SKF - 6001 ZZ
Permanently Lubricated & Sealed

Rivets

Aluminum Alloy with LOCK Washer
Mukta Engineers 24 SS304 Wind Ventilator
| | |
| --- | --- |
| MOC of Vanes | SS304 |
| MOC of Top Plate | SS 304 (o.5mm) |
| MOC Bottom of Ring | SS 304 (0.5mm) |
| Weight of Ventilator | 08 Kg. |
| Height of Ventilator | 410mm + 5 mm |
| Center Width of Ventilator | 735mm + 5 mm |
| Dia of Top Plate | 500mm + 5 mm |
| Dia of Bottom Ring | 600mm + 15 mm |
| Nos of Vanes | 42 Nos Rolled Formed WITH LOCK WASHER |
| Thickness of Vanes | 0.5 MM |
| Nos of Bearing | 02 Nos |
| Bearing Type | SKF - 6001 ZZ Permanently Lubricated & Sealed |
| Rivets & SHAFT | SS 304 |
Contact Us
101 phoenix Avenue, Gandhari, near K m Agrawal college, Gandhari, Adharwadi, Kalyan West, Kalyan, Maharashtra, 421301, India
Phone :+918068216012